STRATEGIC GROWTH
IN PORTS AND LOGISTICS
DUAGA is a specialized consulting firm in the port and logistics sector, dedicated to Strategic Growth and International Financing. Our innovative processes, international standards, experience, reputation, and network of contacts provide measurable benefits and appropriate solutions to our clients to generate value in their corporate strategy.
OUR SERVICES
DUAGA's services are focused on driving and supporting the strategic growth of our clients. Therefore, our solutions help to prioritize the strategic objectives of your company, design and implement concrete and sustainable action plans to achieve short, medium and long term goals, and with this, take advantage of the competitive advantages offered by our services to make a difference in the industry.

If your company wants to grow with efficiency, strength and solvency, DUAGA's team, with successful experience in more than 10 countries in the continent, is your ideal ally. Learn more about our services in our lines of strategic growth and preparation for international financing.
Message from the CEO
"For the DUAGA team, each project and each client is unique and important, so we dedicate the best of us to develop value-added processes that generate measurable benefits for our clients. We are committed to offer high quality services, therefore, we are constantly innovating with new technologies and processes that make our projects unique and innovative developments. Our experience in multiple countries, our international standards, our network of contacts and our responsibility and absolute dedication in each project, allows us to accompany each of you in the planning of growth, the achievement of your strategic goals and the success of your most important projects.

Honesty, professionalism, diligence and dedication are the values that will always be in our Consulting DNA. It is a pleasure for us to be at your service."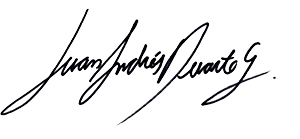 Juan Andrés Duarte Galán
Managing Director DUAGA
«Excellent team of professionals; characterized by their professional competence, experience and commitment to the client. Thank you.»
Victor Julio González
CEO – Sociedad Portuaria de Buenaventura
"I have known and worked with Duaga Consulting over the past several years and their level of professionalism is unmatched. Duaga is a partner that we can always count on to deliver high quality service on time and on budget."
John D. Pauling PE, BCEE
Director, Ports And Harbors Cardno
"I have found DUAGA to be the ultimate professionals and a pleasure to work with. We have teamed together on several projects and they have always provided the appropriate staff and completed their tasks in a very professional, effective and efficient manner. They have been willing to give that extra effort in order to meet demanding project requirements. DUAGA is always the first firm we think of when forming a project team."
James Hunt
CEO – JH Consultants
«We recognize DUAGA and its team of professionals as an ideal company for complex works in the port sector. Their experience and innovative methodologies are of great value to ports in the continent.»
Rafael Díaz-Balart
General Coordinator for Latin America
Asociación Americana de Autoridades Portuarias – AAPA
«DUAGA has been our team of consultants for Technical Due Diligence in the port sector in Latin America, in which CIFI has had mandates for the financing of new projects. Their professionalism, diligence and quality, make them a good ally for the financial and port sector.»
Erasmo Gonzalez-Holmann
Senior Managing Director New Business
Corporación Interamericana para el Financiamiento
de Infraestructura, S.A. – CIFI
"I have had the opportunity to work with Juan Andres Duarte of DUAGA Consulting since 2015 on marine terminal projects in Colombia. These projects required extensive coordination with port management and terminal operations personnel, and Juan was an indispensable member of our team for communicating with the client and understanding the technical issues associated with these projects. These projects were largely successful because of the professionalism displayed by Juan and others at DUAGA."
James Reed, PE
Pacific Northwest Maritime Manager – WSP
countries where we have executed successful projects.

successful consulting processes.
Contact us if you want to reach the next level with your organization!
We are your ideal allies for the growth of your organization.

Let's work together